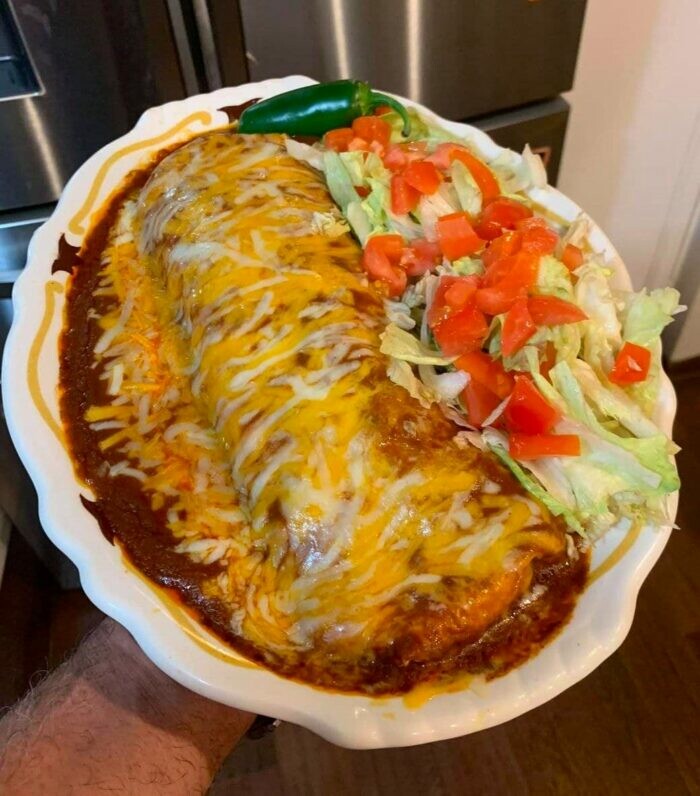 Ingredients:
Beef And Bean Burritos
1 pound lean ground beef

1 packet taco seasoning

1 (16-ounce) can refried beans

6 large (12-inch) flour tortillas

1 1/2 cups cooked Mexican rice

1 1/2 cups shredded Mexican cheese

vegetable oil

Cilantro, sour cream, salsa, avocado for serving
Red Chile Chimayo
1/2 cup Pure Chimayo Red Chile powder

2 1/2 cups vegetable or chicken broth

2 or 3 Tbs. canola oil

1 small white onion, finely chopped

2 cloves fresh garlic, finely chopped

1 tsp. cumin seed, toasted and ground

1 tsp. Mexican oregano

1/8 tsp. ground cinnamon

1 tsp. salt
Instructions:
Beef And Bean Burritos
Step 1: Cook and crumble ground beef in a large nonstick skillet. Add taco seasoning and stir it in well. Add beans and stir in.
Step 2: Place tortillas on a microwave-safe plate. Cover with a damp paper towel. Microwave for 30 seconds.
Step 3: Place 1/6 of the ground beef mixture in the middle of each tortilla. Top with rice and cheese. Roll up burrito style.
Step 4: Heat about 1 tablespoon of oil in a large pan. Cook 2 burritos at a time, turning them to brown all sides.
Notes: 
The filling can be made a day or two in advance and refrigerated.

These are also great in the Air Fryer.
Red Chile Chimayo
Step 1: Put the Chimayo Chile powder in a medium bowl; whisk 1 cup of the broth into the powder to make a smooth mixture with no lumps, then set aside.
Step 2: Heat the oil in a large, heavy saucepan and saute the onion for 5 minutes over medium heat. Toss in the garlic and saute another 2 minutes. Stir in the cumin, oregano, and cinnamon and cook, stirring constantly, for 2 minutes.
Step 3: Scrape the Chile mixture into the pan & stir; then add the remaining broth and cook, stirring, until the sauce reaches the simmering point. Do not let the Chile sauce scorch or boil.
Step 4: Reduce the heat to low, add the salt, and simmer the sauce gently, stirring frequently, for 20 to 30 minutes or until it is the consistently you like; then set aside to cool.
Step 5: When cool, pout into a clean jar, cover tightly, and store in the refrigerator. The sauce keeps well for up to 2 weeks. To keep longer, freeze it as soon as it has cooled.
Notes: This recipe makes about 2 cups.
Nutrition Information:
Nutrition Facts for Beef and Bean Burritos
Yields: 6 | Serving Size: 1 burrito
Calories: 550 kcal | Total Fat: 22g | Saturated Fat: 10g | Cholesterol: 60mg | Sodium: 1100mg | Total Carbohydrates: 55g | Dietary Fiber: 7g | Total Sugars: 4g | Protein: 30g
Nutrition Facts for Red Chile Chimayo Sauce
Yields: 8 | Serving Size: 1/4 cup
Calories: 50 kcal | Total Fat: 4g | Saturated Fat: 0.5g | Cholesterol: 0mg | Sodium: 500mg | Total Carbohydrates: 4g | Dietary Fiber: 1g | Total Sugars: 1g | Protein: 1g
Frequently Asked Questions:
1. Can I use ground turkey or chicken instead of lean ground beef in the burrito filling?
Yes, you can use ground turkey or chicken as a leaner alternative to ground beef. The seasoning and flavors will still complement the burrito well.
2. Are the refried beans canned or homemade in this recipe?
The recipe mentions using a can of refried beans. However, if you prefer homemade refried beans, you can make them from scratch.
3. Can I make the burritos ahead of time and freeze them for later?
Yes, you can assemble the burritos ahead of time, wrap them tightly in plastic wrap or aluminum foil, and freeze them. When ready to eat, thaw and reheat in the microwave or oven.
4. Is the Red Chile Chimayo sauce very spicy, and can I adjust the heat level?
The spiciness of the Red Chile Chimayo sauce will depend on the amount of chili powder used and personal taste preferences. You can adjust the heat level by adding more or less chili powder or including or omitting jalapeños.
5. What are some optional toppings or garnishes that would go well with these burritos?
Some optional toppings and garnishes that would complement these burritos include chopped fresh cilantro, diced avocado, sliced jalapeños, diced tomatoes, chopped green onions, and a squeeze of lime juice.
6. Is there a vegetarian option for this recipe? Can I replace the ground beef with a plant-based alternative?
Yes, you can make a delicious vegetarian version by using plant-based ground meat or crumbled tofu instead of ground beef. Additionally, choose vegetable broth to make the Red Chile Chimayo sauce vegetarian-friendly.
7. Can I use flour tortillas of a different size if I can't find 12-inch tortillas?
Absolutely! If you can't find 12-inch tortillas, you can use smaller ones. Adjust the filling quantity accordingly to accommodate the tortilla size.
8. Can I use a different type of cheese for the burritos, or can I omit the cheese altogether?
Yes, feel free to use your favorite type of cheese or a blend that suits your taste. If you prefer to skip the cheese, the burritos will still be delicious and flavorful.