Creamy Chicken And Corn Pasta with bacon takes only 30 minutes and is a perfect meal for busy family weeknights!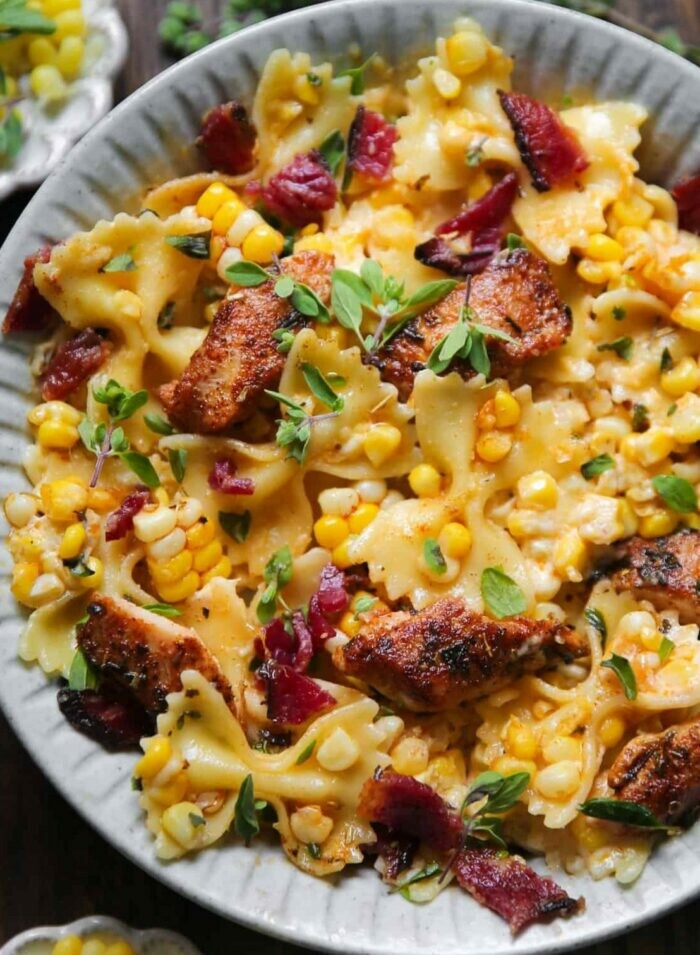 Make it with fresh corn on the cob in the summer. Or, use canned or frozen corn kernels to cook this creamy chicken pasta all year long! This restaurant-quality main dish might become your new favorite chicken dinner for both kids and adults!
Ingredients:
Pasta and cheese
10 oz farfalle bow-tie pasta

½ cup Parmesan cheese
Chicken
1.5 lb chicken thighs or breasts (skinless, boneless)

1.5 teaspoons smoked paprika

1 teaspoon Italian seasoning

¼ teaspoon salt

freshly ground black pepper to taste

2 tablespoons olive oil
Corn
1 tablespoon olive oil

salt and pepper to taste

2 cups corn kernels cooked (4 corn ears – corn on the cob)

1 teaspoon smoked paprika

1 teaspoon chili powder
Other ingredients
1 cup heavy cream

8 strips bacon cooked

fresh herbs thyme, oregano, or marjoram (for garnish)
Instructions:
Bring a large pot of water to a boil. Cook pasta according to package instructions (usually about 10 or 12 minutes). Drain when the pasta is done.
Proceed with the rest of the recipe while you wait for the water to boil and the pasta to cook.
Shred ½ cup of Parmesan cheese. If using pre-shredded cheese, take it out of the fridge.
This step is important because the shredded cheese has to be a bit warmed up to melt successfully in the sauce. What I do is place shredded cheese into a heatproof bowl close to the stove so that it warms up from the heat.
Slice chicken thighs into thinner strips. Generously season the chicken with smoked paprika, Italian seasoning, salt, and pepper.
Heat a large, high-sided, heavy-bottomed skillet over medium heat.
Add 2 tablespoons of olive oil. Add chicken. Cook the chicken on medium heat for about 4 or 5 minutes per side until completely cooked through. Remove chicken to a plate.
To the same, now empty, skillet, add cooked corn kernels, 1 tablespoon of olive oil, salt and pepper, ½ teaspoon smoked paprika, and ½ teaspoon chili powder.
Stir and cook in chicken juices on low heat for about 3 minutes to blend the flavors. Remove half of the corn kernels to a plate.
Add 1 cup of heavy cream to the skillet with the remaining half of corn kernels. Bring to a gentle boil (simmer). Add ½ cup of shredded Parmesan cheese. Stir on low heat until the cheese melts.
Add cooked and drained pasta to the sauce. Add cooked chicken.
Top with chopped cooked bacon and the remaining half of the corn kernels. Top with fresh herbs (thyme, oregano, or marjoram).
FQAs:
1. What type of chicken to use?
Skinless and boneless chicken thighs, they are juicy and tender and easy and forgiving to cook. Chicken tenders are my next best choice
2. What kind of corn to use?
Fresh corn on the cob is the best option, frozen corn is a solution for when fresh corn is out of season or when you can't find fresh corn. Canned corn is also an option, however, freshly cooked corn tastes the best!
3. How to boil corn on the cob?
Bring a pot of water to a boil. Add the corn ears and boil for about 5 minutes. Drain and let the corn cool. Once the corn is cooled, cut the corn kernels off the cob using a knife.
4. How to store this recipe?
Store the creamy chicken corn pasta refrigerated in an airtight container for up to 3 days.
5. How to freeze this recipe?
I do not recommend freezing this dish because creamy sauces don't freeze well.
6. How to reheat it?
In the microwave oven in 30 seconds increments until reheated through.
On the stovetop: Add the leftovers to a large skillet or saucepan, and reheat, occasionally stirring, for about 5 minutes or until everything is heated through. Add a small amount of milk, half-and-half, or cream to thin out the sauce
7. What to serve with it?
Creamy Chicken Corn Pasta with bacon is already a well-balanced meal that has everything. The only thing missing is a fresh, healthy salad!