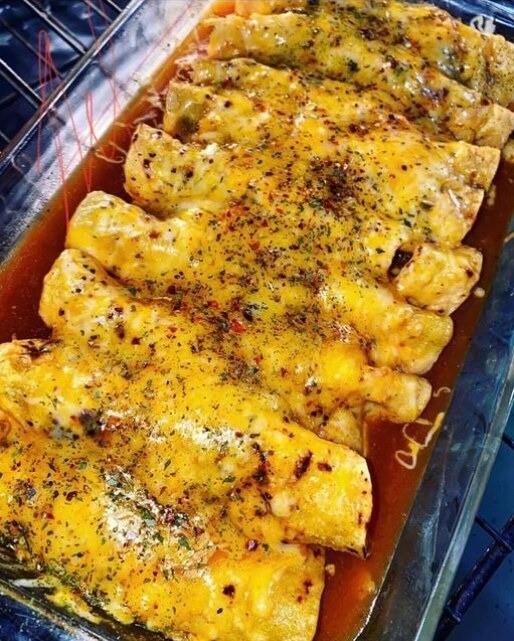 Ingredients
500g (1.1lb) porterhouse steak (sirloin steak) 

½ tablespoon vegetable oil

1 ½ teaspoons paprika

1 teaspoon salt

1 teaspoon cumin

½ teaspoon cayenne (or chili powder)

½ teaspoon ground black pepper

1 small red onion, finely diced
2 cloves garlic, minced

400g (14oz) tin black beans 

1 ½ cups (375g / 13.2oz) enchilada sauce 

2 cups cheddar cheese, grated (don't use pre-grated / pre-shredded cheese)

8 (8-inch) flour tortillas 

Jalapeno, coriander (cilantro) and lime wedges, to serve
Instructions:
Step 1: Take the steaks out of the fridge 1/2 an hour before you start. Preheat the oven to 180C / 350F / 160C fan forced.
Step 2: In a small bowl, mix together the salt, paprika, cayenne, cumin and pepper, then sprinkle it all over the steaks.
Step 3: Heat the oil in a frying pan / large skillet over medium-high heat. Place the steaks in and let them cook until the underside has a nice crust (1-2 minutes only).
Step 4: Flip the steaks and cook for another minute. You want the steak to be rare or medium rare as it will cook more in the oven. Set them aside on a plate to rest.
Step 5: Turn the stove down to medium heat and let the pan cool for a minute. Add the onion and cook for 3-4 minutes until softened. Add the garlic and cook for another minute.
Step 6: Add the black beans and 1/2 cup of the enchilada sauce. Mix well to combine and cook for another minute. Remove from heat
Step 7: Slice the steak thinly and mix it through the onion and bean mixture. Spread 2 tablespoons of enchilada sauce over the base of a 9×13 baking dish.
Step 8: Place filling on the lower third of one tortilla and add a small pinch of cheese (keep 1.5 cups of cheese for the topping). Roll up and place in the baking dish seam side down (notes). Repeat with the remaining tortillas and filling.
Step 9: Pour the remaining enchilada sauce over the top then sprinkle all over with cheese. Bake for around 25 minutes or until the cheese is gooey and bubbling. Serve sprinkled with coriander leaves and slices of jalapeno. You can add a lime wedge to the side too.
Notes:
You can use a variety of steaks and prepare them the same way. Strip steak, flank steak and rump steak are also good.
I find it easier to have a big workspace and lay out all my tortillas to fill at once. This way you know they all have an even amount of filling.
Don't use store-bought shredded cheese as it is mixed with a coating that makes it gummy when it melts. Always choose a block of cheese and shred yourself.
You can also use corn tortillas or smaller tortillas. Any will work.
If you have taco seasoning on hand, feel free to use that to spice the steak.
Nutrition Information:
Calories: 416 kcal | Carbohydrates: 22 g | Protein: 26 g | Fat: 25 g | Saturated Fat: 12 g | Cholesterol: 82 mg | Sodium: 896 mg | Fiber: 5 g | Sugar: 3 g
Frequently Asked Questions:
1. Can I use a different type of steak for this recipe?
Yes, you can use different cuts of steak, such as flank steak or ribeye, if you prefer. Just keep in mind that cooking times may vary based on the thickness and type of steak you choose.
2. Can I use store-bought enchilada sauce?
Yes, you can use store-bought enchilada sauce if you're looking for a quicker option. However, making your own sauce from scratch can enhance the flavor of the dish.
3. Can I use corn tortillas instead of flour tortillas?
Yes, you can use corn tortillas instead of flour tortillas if you prefer. Corn tortillas can add a different texture and flavor to the dish.
4. What can I serve with Steak Enchiladas?
Steak Enchiladas can be served with a variety of side dishes such as Mexican rice, refried beans, or a simple side salad. The suggested toppings of jalapeno, coriander (cilantro), and lime wedges can also enhance the flavors.
5. Can I prepare the filling ahead of time?
Yes, you can prepare the steak and onion-bean filling ahead of time and store it in the refrigerator. When you're ready to assemble and bake the enchiladas, you can proceed with the remaining steps.
6. Can I use a different type of cheese for the topping?
Yes, you can use other types of cheese that melt well, such as Monterey Jack or pepper jack, to create a different flavor profile for your enchiladas.
7. What can I substitute for the porterhouse steak?
If you prefer a different cut of meat, you can use alternatives like ribeye or strip loin. Just keep in mind that cooking times might vary based on the thickness and type of steak.
8. Is it necessary to use fresh cilantro (coriander)?
Fresh cilantro adds a burst of flavor, but if you're not a fan of cilantro, you can omit it or replace it with chopped fresh parsley for a milder herb flavor.
9. Can I make these enchiladas spicier?
If you enjoy spicier food, you can increase the amount of cayenne or chili powder in the spice rub, or you can add a diced jalapeno to the filling for an extra kick.
10. Can I use homemade enchilada sauce?
Absolutely, homemade enchilada sauce can elevate the flavor of the dish. If you have a favorite recipe, feel free to use it. However, using store-bought enchilada sauce works well too and saves time.